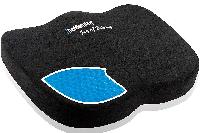 https://www.amazon.com/dp/B01E5X27EE
Click the $10 OFF coupon on page.
Features:
PERFECT FOR ANYWHERE YOU SIT – Car, office chair, living room, dining room, kitchen, patio and even your wheelchair. Great for sporting events, truck drivers, pilots, airplane travel. Also great for and pregnant women!
Ultra-soft, ultra-strong, solid rubber-like Gel and Memory Foam material. Breathable gel stays cool during use!
Engineered & designed for human comfort threshold, adjusting to any individual's body shape or weight.
All of Sojoy's gel cushion products are safe for traveling on plane and complies with FAA regulations.