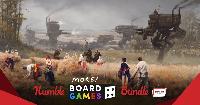 https://www.humblebundle.com/game…es-asmodee
Things are about to get dicey . Asmodee Digital is back with more board games to cure your boredom! Skip the setup and get digital board games like Ticket to Ride: First Journey, Pandemic: The Board Game, Love Letter, Ascension: Deckbuilding Game, and Scythe: Digital Edition. Plus, your purchase will support Make-a-Wish Foundation and a charity of your choice!
Pay $1 or more. Normally, the total cost for the games in this bundle is as much as $118. Here at Humble Bundle, you choose the price and increase your contribution to upgrade your bundle! Pay $1 or more to access Steam keys.
Redeem on Steam. All of the games in this bundle are available on Steam for Windows and some for Mac too. Please check out the full system requirements here prior to purchasing.