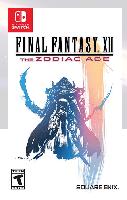 This isn't a spectacular deal but Final Fantasy XII for Switch is released today and Amazon has it for $41.86. (16% discount)
https://www.amazon.com/Final-Fant…r=8-1&th=1
BestBuy link for reference
https://www.bestbuy.com/site/fina…Id=6314686
For me, it was showing a "my Best Buy" offer at $44.99. Not sure if that is targeted. Of course if you still have GCU you could still get it at 20% off, but most people's GCUs have expired since they stopped renewal. I'm sure if you wait you'll be able to find it for $29 or so, but if you want it at release time these deals are probably the best you can do.
This is the Switch version which is what makes it attractive for some (there is also a new XBox One version). Yes, this is available on PS4 for less but some want it on other platforms, in particular with the portability of the Switch.