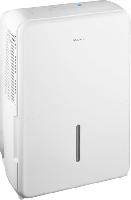 Insignia™ – 70-Pint Portable Dehumidifier – White
CHECK YOUR LOCAL UTILITY PROVIDER FOR POSSIBLE REBATES
https://www.bestbuy.com/site/insi…Id=6165890
70 pints/day dehumidification
Reduces moisture in the air, helping you to feel more comfortable.
Adjustable humidistat
For maintaining a comfortable moisture level for you and your family.
Bucket full indicator light
Notifies you when the water tank needs to be emptied.
Auto shut off
Turns the unit off when the water tank is almost full.
Timer
For preset operation and reduced energy consumption.
LED lights
Illuminate the current settings for added visibility.
Casters
Make it easy to move the dehumidifier from room to room.
1.6 gal. water tank
For simple maintenance.
ENERGY STAR certified
Eco-friendly design reduces energy usage.