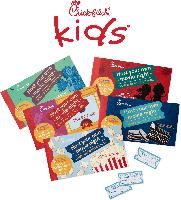 https://www.chick-fil-a.com/#kidsmeals
https://www2.activaterewards.com/cfa
Details – https://www2.activaterewards.com/…er_details
Receive a FandangoNOW Promotional Code ("FandangoNOW Code") via email when you enter in a Reward Code on www.activaterewards.com/cfa . FandangoNOW Code is good towards the rental of one G or PG movie on FandangoNOW.com/promo/cfa and via participating FandangoNOW apps. You must have a Fandango VIP account to redeem your Code. Fandango VIP is free to join. Credit card may be required for transactions on FandangoNOW.com. Reward Code and FandangoNOW Code expires on 12/31/19. One FandangoNOW Code per transaction. Limit 10 Codes per household. Must be 18 or older to activate the Reward Code.