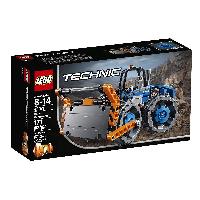 LEGO Technic Dozer Compactor 42071 Building Kit (171 Pieces)
by LEGO
4.8 out of 5 stars 68 customer reviews
List Price: $19.99
Price: $8.49 FREE Shipping on orders over $25—or get FREE Two-Day Shipping with Amazon Prime
You Save: $11.50 (58%)
* Build a replica model of a Dozer Compactor complete with driver's cab, working bulldozer blade and steering, and hard compactor wheels
* 2-in-1 LEGO Technic set – rebuilds into an Articulated Truck
* Dozer Compactor measures over 3" (10cm) high, 7" (19cm) long and 4" (11cm) wide Articulated Truck measures over 3" (8cm) high, 7" (20cm) long and 3" (9cm) wide
* 171 pieces – For boys and girls between the ages of 8 and 14
* LEGO Technic 2-in-1 building sets are compatible with all LEGO construction sets for creative building
On back-order, "Usually ships within 1 to 3 months."
Limit is 3 per account, can be in separate orders, so I made 3 orders and will figure out soon if I should keep them, I have at least a month to decide.
I do this for items that can be sold out by the time I find out whether they are needed. I usually get simple LEGO, City and 3-in-1 (for travel) sets, and am somewhat new to giving Technic. It is back-order so I have time to find out and cancel or modify shipping address.
$8.49, usually $16, but as low as $11-12. This is the lowest price per ccc, matching from June 9th.