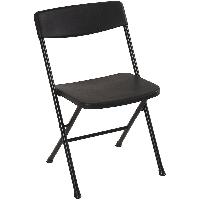 Walmart has Mainstays, plastic, resin, folding, black chairs on clearance for as low as $3. As you can see in the attached photo, these are made by COSCO for Walmart. They're definitely not great chairs, but they have a stated weight rating of 250 lbs – the same weight rating they have for their basic Mainstays/COSCO steel chairs.
I found the chairs at two different Walmarts, and by some miracle, brickseek was accurate for both. One of the Walmarts I found them on the end cap of the folding chair aisle, and another one I found them completely unlabeled in the overflow furniture area. They just hit $3 in my area yesterday, so hopefully if you are interested, they haven't had time to label them as $3 or move them to the bulk clearance area.
Below is the brickseek link and the Walmart link for reference. The Walmart website link actually shows the chairs as $3 if the store selected has them in stock for $3, but only available for in store purchase.
https://brickseek.com/walmart-inv…=180159770
https://www.walmart.com/ip/Mainst…/180159770
MSRP: $12.97
SKU: 180159770
UPC: 044681378256
I'm not touting these as amazing or sturdy chairs. Simply cheap chairs for your Summer gatherings so Uncle Bill can eat his burger somewhere before getting up to escape being eaten by mosquitoes. Don't think he cares what he's sitting on.