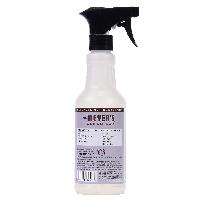 Amazon has a 3-pack of Mrs. Meyer's Clean Day Multi-Surface Everyday Cleaner (Lavender) for $7.96 and free shipping via S&S (@ 5%).
https://www.amazon.com/Mrs-Meyers…00NZDRC14/
Description:
Quick and easy multi surface spray removes stuck on dirt
A fresh way to clean, refresh, and remove odors from non-porous surfaces throughout the house
Garden-fresh lavender has an original and clean floral scent
Safe to use as a floor cleaner, tile cleaner, on countertops, walls, and more
Mrs. Meyer's produces cruelty free cleaners. None of our products are tested on animals
According to Camel x 3:
Highest price: $11.97
Lowest price: $7.99
Average price: $11.43
Also, the lemon verbena scent is $7.89.
https://www.amazon.com/Mrs-Meyers…01IQ9R37E/
Per Camel x 3, lowest price is $7.99.