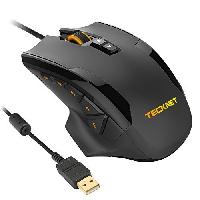 Amazon has TeckNet HYPERTRAK High Precision Programmable Laser Gaming Mouse on Sale for $13.99 after apply Code: TeckNetM009 at checkout.
10 Programmable buttons: 12 Macro settings, each macro supports 32 buttons and can store up to 6 profiles.
A9800 Avago Chip Sensor: has a 16400 DPI laser sensor with excellent precision, speed and consistency of response. Choose between 4 DPI levels: from a precision aim to the pixel (250 DPI) with a beam (up to 16,400 ppp).
Communication: 125 Hz to 1000 Hz refresh rate, the speed and accuracy of your movements will be transmitted to the game as quickly as possible. Compatible with Windows XP/Vista/2000/7/8/10.