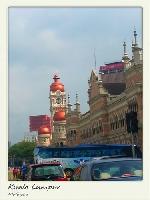 this is hot.
China Southern Airlines, a certified Skytrax rated 4 out of 5 stars Chinese airline via Skyscanner have round trip airfares travelling from New York (JFK) to Kuala Lumpur Malaysia (KUL) for $458, making 1 stop.
There are slightly lower fares (as shown in screenshot) for $438 but those are on other Chinese airlines that's rated lower. That's up to you.
Travel Availability:

Departs JFK: Nov 1-16, 18-20; Dec 1-5
Returns: wide and great availability, daily thru Dec 30, 2019
To book this deal, enter travel information on , who will find the lowest possible prices for you. Then select a known and reputable OTA to complete your booking!
Kuala Lumpur Travel Guide . Want to see more travel deals? Click or .
.