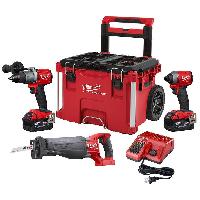 Surprised this hasn't been posted… searched and couldn't find it.
I've been looking for a deal on the M18 FUEL starter kit for a few months. Mainly interested in the drill and impact driver… but I would consider another tool. The price point I was looking at was $100 per tool.
https://www.homedepot.com/p/Milwa…/307940640
Home Depot has this kit (2997-23SPO) on sale for $449, plus you get a free tool or battery (can select from 5 I believe). This was in store. I believe the free tool was all M18 – grinder, multi tool, light, extra battery, speaker. You can see the options here:
https://www.homedepot.com/collect…=307940640
None of the extra tools really appealed to me, so I went with the light (checked reviews first):
https://www.homedepot.com/p/Milwa…/304351228
I may return the light. On the receipt, it says "Max refund value" of $111.87.
So $449 – $112 (returned light) = $337. I'm not sure if the other tools would give you more or less money back. I know the light was the most expensive of the "free tools" at $149. The cheapest was an extra battery at $100.
The packing rollout goes for $130 new but you wouldn't be able to return this separately… I'm not sure what these go for on ebay or craigslist, but if you didn't want it maybe you could get $75-$100 for it?
That would take you down to $250-$275 for three M18 FUEL tools. Below the price point I was looking for. I like the packout roller, may keep it. On the fence about the light. You also get 2 x 5.0 batteries in this kit. Could sell those if you don't need them and get it even lower!