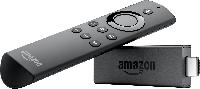 This is very YMMV so be aware that it might be available at your location.
Staples has the 2nd Gen Fire TV Stick on clearance. The website will show $39.99.
Use Brickseek to check for inventory. I checked a few market last week and found a few stores in Phoenix, San Jose, Denver had a couple of store with stock. Phoenix had 4-5 stores with stock.
This is the original 2nd generation with the UPC Code 848719083781. The box has the stick at a horizontal angle. The newer 2nd generation with the upgraded remote is still at $39.99 (The box has the fire stick and remote at a vertical position),
When they scanned the fire stick they rang up at $7.86 when they entered my rewards card it dropped to $4.16. I do not know why I got this discount. I am a Staples Premium member.
Again this is very YMMV, I checked about 10 other markets last week and found only three markets with any stock.