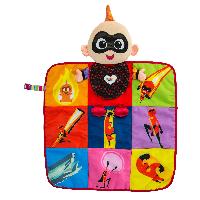 Disney/Pixar Incredibles Jack-Jack Lamaze Book/Toy Playmat $5.00

The Disney/Pixar Jack-Jack Book Play Mat is a colorful picture book and 18 x 18 inch play mat in one.
Bond with baby during story time with vibrant characters from Incredibles and Incredibles 2. Baby can explore surprise crinkles, various textures, a squeaker and multiple contrast patterns.
Jack-Jack features a unique folding design that makes him the perfect size to take him with you on the go.
When unfolded, the soft play mat encourages baby to move forward and reach, push and crawl.
Soft book and play mat in one.
Jack is mix of many bright colors and patterns.
Unique folding design makes it perfect for taking with you anywhere you go!

Unique design unfolds into 18 x 18" play mat

Shipping is free on orders of $35+
Note, store pickup is currently not available. Shipping only.