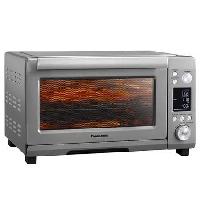 extreme YMMV and In-Store Only!
Saw this in Walmart (North Pt. Baltimore) this morning:
Panasonic NB-W250S High Speed Toaster Oven with Convection Cooking
S-S Digital Control 3x Upper IR elements + 2x Lower Conventional elements. Crumb tray slides in & out without opening door.
https://www.walmart.com/ip/Panaso…/374483315
Was: 79.88
Now: 59.00
List: 99.99 79.99
Panasonic Product Page
I bought one several months ago when it dropped to $80, @ $59 it's a steal!
Toasts, broils, bakes, convection cooking, and yes, it ' air-frys' *.
(*air frying requires purchase of perforated pan; got one @ Restaurant Store for $1.20)
Does a load of crispy FF in 15-minutes w/o oil!
Easily cooks a 12-inch pizza too.
This oven can also use standard "One Quarter" pans.