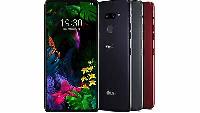 LG G8 ThinQ – 128GB -Smartphone Gray (Sprint) 9/10 GSM UNLOCKED
https://www.ebay.com/itm/LG-G8-Th…3930514763
Looks like a reputable seller with free returns. Good feedback on the item with people receiving like new phones.
You can get 10% ebay bucks back:
You can also get 5% off with Discover and Paypal. Also can use cashback sites to add additional cashback on top of that.
After cashback and ebay bucks this was about ~$215 for a current generation Android Phone.