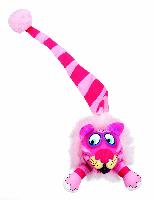 Amazon has these Petmate Fat Cat USA Catnip Toys on Sale for the Lowest Price Ever per CCC. Colors May Vary.
?17in Kitty Hoots Tail Chaser $6.99 $2.49

Tail chaser catnip toy has a 15-inch tail that is great for chasing fun
This toy has 3 forms of play value
Toss it across the room and watch your cat become airborne in lickety-split time
Grab the head and try dangling the tail in your cat's general direction
The organic Zoom Around the Room high test catnip has been added to this toy for maximum kitty frenzy

Classic Fluff Bunnies $7.65 $2.69

No flufflovin' kitty can resist these Fat Cat soft little bunnies
Contains our famous United States Zoom Around the Room high-test organic catnip

Classic Kitten Little $1.49

Kitten Little toys will throw even the most Potato-Like (as in lumpy couch potato) cats into a sweet frenzy of the highest level
We've made them small for supreme airborne possibilities
Filled with our exclusive Zoom Around the Room high-test organic catnip
Shipping is Free for Prime Members or w/ S&S.