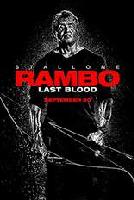 https://www.regmovies.com/static/…ovie-bonus
Regal Crown Club Required ( free to join )
See these Lionsgate Movies and earn bonus rewards with Regal Crown Club!
Members that see multiple movies from this set of Lionsgate Films will receive additional rewards and bonuses. To receive bonuses, you must be a member of the Regal Crown Club. Not a member of the Regal Crown Club?
Register your existing card or join for free now!
Rambo: Last Blood

Release Date: Sept. 19, 2019

Jexi

Release Date: Oct. 11, 2019

Midway

Release Date: Nov. 8, 2019

Knives Out

Release Date: Nov. 27, 2019
Bonuses Include:*
See two of these films and receive 500 extra credits*
See any three of these films and receive an additional 1000 credits and a free small popcorn.*
See all four of these films on or before 12/19/19 and receive 1000 extra credits PLUS a digital copy of all four of these films.**
* Members must use their Regal Crown Club card when purchasing tickets to these films to qualify for the bonuses. Allow up to 48 hours for delivery of extra credits and loaded-to-card free small popcorn reward.
** Must see all four films before receiving the digital copies. Digital movie rewards will be delivered within two weeks of each movie's home entertainment release but no sooner than 12/20/19. Some titles may not be available immediately upon completion of the program but will be delivered when made available in that format. Codes are delivered via Crown Club email. Members must be subscribed to Regal Crown Club emails to receive this reward.