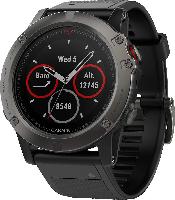 https://www.frys.com/product/9169488
I've been on the lookout for a decent GPS watch at a reasonable price for a while, and I stumbled across this clearance deal at Fry's Electronics. It's less than half the price of the next best prices I could find at any other reputable retailer.
If you're in CA and have a Fry's locally, finding it in stock might be a little hit or miss. But it's available for shipping, and the price is over Fry's threshold for free shipping. No special codes required. Sales tax in CA.
It may not have the music streaming capabilities of the Fenix 5 Plus series, and the Fenix 6 is coming out soon…but for this price, the 5X is still a beast of a device. Too much of a beast for me (it'd look kind of ridiculous on my thin wrist), but I figured other SD'ers might benefit from it.