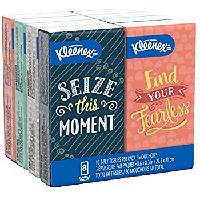 Amazon has their "Kleenex Trusted Care Facial Tissues, 8 On-The-Go Travel Packs, 10 Tissues per Pack (80 Tissues Total)" on sale for $2.28 and shipping is free, not Add-on
https://smile.amazon.com/gp/product/B00706W9EC/
I know this is a bit YMMV, but for me it was a great deal since it's not an add-on item and worth sharing. I placed 6 orders so I expect to get enough tissue to last me a while for ~$13.56 + tax and receive $6 back in no rush credit. These packs are about the same price in store @ target before considering any value from the No Rush credits plus I get to avoid a trip. Basically 48 name brand travel tissues packs for under $8 to my door since I make good use of the credits.