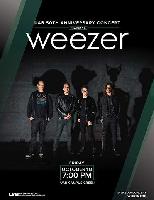 https://www.uab.edu/news/arts/ite…nniversary
Tickets will be available to UAB students, staff, faculty and National Alumni Society members Thursday, Sept. 19. Additional tickets are scheduled to become available to the public at 10 a.m. Friday, Sept. 20. All tickets will be available through Ticketmaster.
Grammy Award-winning rock band Weezer will headline a free concert Friday, Oct. 18, presented by the University of Alabama at Birmingham in celebration of the university's 50th anniversary.
Rapper Gashi has just been announced as the opening act. The concert is set for 7 p.m. outdoors on UAB's Campus Green. Free and open to the public, tickets will be required for entry. All ticket transactions will be limited to two each.
This year marks UAB's 50th anniversary, and the university is celebrating throughout 2019, including its weeklong Homecoming celebration Oct. 13-19. UAB Football will play Old Dominion University on Saturday, Oct. 19, at Legion Field.
American rock band Weezer, formed in Los Angeles, California, in 1992, has sold more than 9 million albums in the United States, and more than 17 million records worldwide. Their catalog includes megahits "Buddy Holly," "Undone (The Sweater Song)," "Say It Ain't So," "El Scorcho," "Hash Pipe," "Island In The Sun," "Beverly Hills," "Pork and Beans," and more. The band's current lineup includes Rivers Cuomo (lead vocals, lead guitar), Patrick Wilson (drums), Brian Bell (rhythm guitar, backing vocals, keyboards) and Scott Shriner (bass, backing vocals).