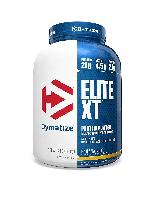 https://www.amazon.com/Dymatize-E…way&sr=8-4
Dymatize Elite XT, Banana Nut flavor only. 4 lb container.
$20.86 with no S&S
$19.82 with 5% S&S
$17.73 with 15% S&S – here's your best deal if you already have 4 or more items in S&S – the fifth item gets you the 15%
It's a blend – Whey Protein Concentrate, Milk Protein Isolate, Whey Protein Isolate, Micellar Casein. Same protein posted in another expired thread but a different flavor. A bit more expensive too, but not by much.
Make your decision regarding the macros – I won't get into the pros and cons of a blend, cholesterol, carbs, etc. Just postin' the deal for everyone's benefit.