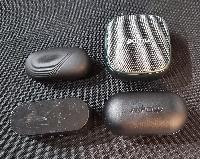 So I posted these before, but it got taken down because they didn't have enough reviews yet. But they've met the requirement so I'm giving them another go. I personally think these are the best bang for the buck out there at the moment for $30. I think the sound quality is on par with the Jabra 65t (at least from my brief time with it), almost as comfortable as my iconX 18′s, and a highly pocketable case that makes them such an easy every day carry. At the bottom is my Amazon review of them. Your mileage may vary, but for my needs they do the track. If they had usb-c they'd be the perfect budget buds. You can look at the Sabbat E18 Ultra or the Wavefun Xpods (which have a few rebranded options) if you just have to have usb-c and apt x.
Bomaker True Wireless Earbuds
They're listed at $49.97. There is a clippable 10% coupon and then in the special offers section they list coupon code XPXVCURW to take off another 30% making them $29.97.
So no shilling here. I've bought so many the vast majority of my amazon alerts are for all the china buds out there. But I read some of the real reviews and decided to give them a go. There are some shill reviews, but I have a brain and know how to discern real from fake without turning to a website to decide for me. Attached a pic of my order to boot. No free product. Not paid to post. Just happy to have a go to pair after so much trial and error. I did the same thing with wired BT buds after my Jaybirds kept failing. Still have three or four of the china headsets laying around collecting dust.
My pluses for them:
Sound quality better than the other aptx buds I've tried. Those that can't be named along with the Enacfire E18. There's just a clarity jump from them to these. On par (to my ears) with the 65T and iconX 18. The only mainstream ones I've owned. Bass is decent and noticeable. Mids and highs are clear. Could be a touch more separation of the mids and highs, but I'm not expecting anything close to my wired triple-fi's or denons which are about where I top out on audiophile side of cans.
More anatomic fit. Actual left and right angled buds that fit well against my ears and don't stick out like Frankenstein plugs. No pressure against my ear like the Jabra's. Feel light and stable. I've gone on two runs with them and have done some crossfit like workouts with them.
Small highly pocketable case. I don't want a power bank. I don't want to recharge my buds ten times over. If I can't slip them easily in the pocket every time I leave the house or car, they're worthless to me. If you want that, buy the Pamu Scroll w/wireless charging option. I think the Pamu sound a little better, but I didn't like the fit, the stalk or the white castle burger sized case.
The rest for me is fluff. I don't care about multiple device connection. I don't care about ambient sound. Call quality would be a distant four on the above list. I have my nice Jabra Voyager with the in ear bud adapter for business calls. But I have taken a handful of calls so far, and I haven't had people complain. I've been outside loading or unloading the car, and I've been walking around various hospitals or stores with them. If you really care about call quality that much, just buy them and try them. If they don't suffice, return them. It's Amazon. Go drop them off at Kohl's and get a 25% off coupon for shopping at Kohls. You're not getting a dual mic setup at this price point. You are getting decent CVC noise cancellation which I think is better than Realtek's Clear Voice. But it is what it is with these. Some just need realistic expectations. But the bottom line is for everything you can get for under $40, the idea these mainstream companies are charging over $150 for theirs is just ludicrous. And I'm quite sure next year the gap will close even more because it's plain to see Samsung, Jabra, Jaybird and such have no interest in really providing valuable upgrades. Same drivers, battery and so on for the most part. whoopidee doo. I might be game to try the Jaybird Vista's, but when they drop to $75.
And I'm not trying the Creative Outlier. The YouTube comparisons I've seen haven't really made them stand out. And at over twice the price of these, I'm not biting. I'd try the Sabbat's before I tried them.
And no offense to Anker fans, but I have zero desire to try any of theirs. They just don't bring anything to the table I see of value for what they're charging. Stalk designs suck. Don't know how people wipe a sweaty face or take a shirt on or off without popping them out.
Yes you can use one bud at a time. The right one is the master. It will work solo by default. If you take it out on its own, it will connect. If you're using both and put the left one away, it keeps on going. If you want to use the left, take the left only out of the case and pair it on its own. It'll be Sifi L while the right or pair will just be Sifi.
No I haven't tested the battery life. I did just use them for the gym, and I'm sitting here at Wegmans using the right one while I write this and do some quick work for the Eagles game. So I'm at about the four hour mark with 10 minutes of charging from the gym to here.
Plenty of pics for comparisons of the various ones I own, and I would copy/paste my Amazon reviews, but I really don't feel like editing out the name of the one pair I own that I'm not allowed to mention. And SD, I'm not editing my pics. The pair is there. I think you can deal with it. They're not getting recommended any more by me. So if you care to read my review, it's titled "If they had USB-C, they'd be perfect."
For reference, I own or have owned the following: IconX 18′, Jabra 65t, Rademax, Pamu Scroll, cheap no name trash, Hyphen, the forbidden apt-x pair, Pamu Slide, Enacfire E18 and now these. I've looked into the Wavefun Xpods and the Sabbat E18 Ultra. Both of the latter are Qualcomm AptX, but they add USB-C charging. At this point, I just can't justify buying them as I think that's the only feature that I'd be getting. Maybe if I sell some of my others, I'll justify it. And then it'd be the Sabbat's as I think the Wavefun will have similar sound to those that can't be named and the Enacfire. A rebrand of them is only $25 on aliX, and shipped from the US to boot. Tempting, but no for now.
I also never ever use the stock tips, ever. I hate silicone in my ear, and that's just it. I was always a staunch Comply fan, but they dropped the ball big time with their TWS foam tips. The foam would separate so quick from the rubber core. They were just crap. I've since switched to the Misodiko TWS-Pro tips and have been pretty happy with them. Highly recommend the small over medium if you generally wear medium Comply tips. Not as memory like as Comply, but still comfy. Comply has come out with new ones that are supposed to solve that separation issue, but at $15 a pair when these are $15 for 3 pair, why would I bother, and I told the rep the same thing. Especially after buying multiples of their old crap ones when they have no real warranty.