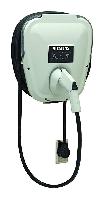 Level 2 electric vehicle charger included in Amazon's Warehouse sale (20% off).
Quicker charging (30 Amps, 240V, Level 2): 4x faster charging than Level 1, 120V chargers. Item Dimensions (inches) : 14.5 W x 16.0 H x 6.5 D
Easier set-up: Includes convenient mounting bracket, 20ft charging cable, and NEMA 6-50 plug for use with common dryer outlet.
Flexible control: Pause and 2/4/6/8 hour delay functions built into the front of the charger. Operating temperature: -30°C to +50° C
Built to last: Industry leading 3-year warranty for indoor or outdoor use, and manufactured in California.
Universal compatibility: Works with all J1772 complying cars and also Tesla vehicles using Tesla's charging adapter.Voltage:208 V
Award winning: Rated as The Wirecutter's "Best EV Charging Station" of 2017.
A name you can trust: Siemens has been a technology leader for over 170 years.
Product page: https://www.amazon.com/Siemens-US…als&sr=8-7
Open Box Options: https://www.amazon.com/gp/offer-l…7EE7U53NWQ