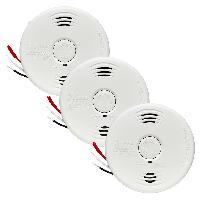 $69.99 After $20 OFF – Kidde Hardwired Smoke & Carbon Monoxide Alarm, 3-pack
https://www.costco.com/.product.1360540.html
Features:
Hardwire installation required, with sealed 3V lithium battery backup for 10-year life of the alarm.
Voice Warning – Warns of hazard by announcing "Fire!" or "Warning, Carbon Monoxide."
Intelligent Sensor Technology – Reduces nuisance alarms and offers fast response to real fires.
Test/Hush Button Functions – A single button that tests alarm circuitry and temporarily silences nuisance alarms.
Alerts user when the unit has detected CO concentrations of 100ppm or higher.