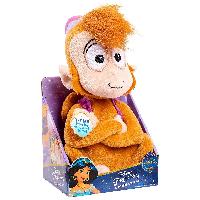 On sale on Amazon:
Disney Aladdin Chatterback Plush

Apu $16.99 $6.49

Sits 9.5" tall.
Speak to Abu to activate sounds and vibration.
When you talk to Abu he really talks back!
Comes dressed in signature vest from the film.

Made with soft cuddly fabrics.
Features deluxe embroidered details.
Shipping is free for Prime members. Select no rush shipping for $1 Amazon digital credit.