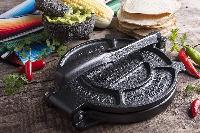 Victoria 8 Inch Cast Iron Tortilla Press. Tortilla Maker, Flour Tortilla press, Rotis Press, Dough Press, Pataconera Seasoned with Flaxeed Oil, Black -
Brand: Victoria
4.4 out of 5 stars 5,989 ratings
https://www.amazon.com/dp/B00HWEIKZO
Price has been fluctuating around $49.98 and $19.59. I bought it last week and it bounced back up to $49.98 and now down to $19.59 again. Former SD deal showed it at $24.99.
?? DO it yourself. Make your own tortillas, patacones, Rotis, empanadas, quesadillas, and Arepas at home fast and easy. Great for non-gluten and Paleo tortillas too!
?? Reinforced Design. We improved the base & the handle for better resistance. Our cast iron plates are engineered to avoid pinching. Get even tortillas every time.
?? Heavy-duty construction. Made of cast-iron seasoned at high temperatures with 100% non-GMO vegetable flaxseed oil. Low maintenance. Restaurant quality.
?? Comes with an extra screw for the lever. Includes detailed instructions on use and care. Overall width – Side to side: 11. 25 inch, overall depth – front to back: 11 inch
?? Authentic by Victoria. Tortilladora made in Colombia since 1986, Don't trust imitators! Limited Lifetime .