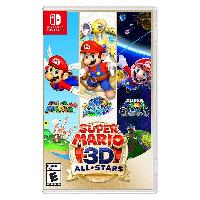 Daily Steals is selling the Super Mario 3D All-Stars Game for Nintendo Switch (USA Region) for $52.99 on Facebook Marketplace.
Pre-Order Note: This game is released on 9/18/2020, it will not be delivered before the release date. Depending on your shipping location, it may be delivered to you on 9/18, but not before.
If the product links do not work for you:
Depending on what version of Facebook you're using, and/or browsing on desktop/mobile, these links may not work. Some alternatives to find the deal:
Instagram Shop: Browse to @dailysteals in your mobile Instagram app > Click "View Shop" > "Video Game Deals"
Facebook Shop: Enter the Daily Steals FB page (facebook.com/dailysteals or facebook.com/pg/dailysteals/shop/ [facebook.com] > Go to their "Shop" tab > Search for the product title (stated above or find the "Video Game Deals" collection.
** Both Instagram and FB use the same Facebook Checkout and provide the exact same purchase protection (purchase protection info: https://www.facebook.com/help/228307904608701)
https://www.facebook.com/marketplace/deals/item/3159081737552052