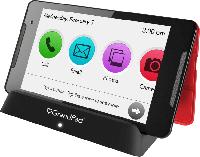 I saw this deal on Facebook. The GrandPad is a tablet designed with tech challenged seniors in mind. I am a caregiver at a long term care facility and several folks have these tablets to stay in touch with their family. They work great. It's already connected to a cell network. Especially during these crazy times, this device is the perfect way for families to stay connected. Even in situations where grandma or grandpa is isolated or quarantined, GrandPad can help them keep their family members close.
Normal price is $588, but with the promo code, you can get $100 off through 11/10/20 ($488 using promo code: SENIORTECH100 at checkout). That includes the Grandpad tablet, the GrandPad service, and the cell data included for 1 year.
https://www.grandpad.net/
With a GrandPad subscription plan, your loved one receives the specially designed GrandPad tablet with built-in 4G LTE data (no home WiFi needed), easy-to-use video calling, voice email and texting, family photo and video sharing, streaming radio and music, a variety of games, our 24-hour, personalized customer support — and much more! No contracts. No unexpected costs.