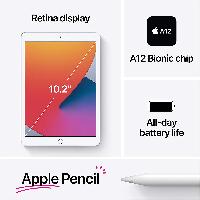 is active again. The Silver and Gray models are at $399.
Amazon offers the iPad 8 (10.2", 128GB, Gold, Latest Model) for $395 with Free Shipping. That's $34 off the list price.
You can price-match with Target [target.com] for faster delivery (3-5 days) and use your RedCard for an additional 5% discount, bringing the pre-tax total to $375. That's $55 off the list price.