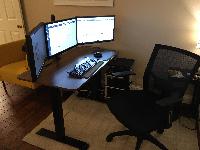 I've been looking off and on for a standing desk. Haven't seen a better deal than this. The walnut color shows a "Save an extra $20.00 when you apply this coupon" checkbox right under the price on the Amazon page.
I've already received mine and assembled it. It's such a great desk for the price that I just ordered a second one for the missus. Here are some of my observations:
The Amazon description reads 44×24 inches. My actual tabletop dimensions are 43.25" x 23.7" — a good size for the room I'm working from home in.
The walnut wood color is darker in person. It's a nice solid thick laminate.
The table top comes in two pieces split the long way. It works out fine because the laminate wood pattern makes it look like the desk is made of a couple of planks.
The motor is on the right side of the desk.
Frame is sturdy!!!
Assembly instructions were literally 4 diagrams with very few words. (Reminded me of "How to draw an owl" ??)
Took me about 2 hours to install. I took my time to make sure everything was tight, but not too tight that I'd strip something.
Single motor. There's an axle that goes between the winches for both legs. I was a little nervous installing this part, but it turned out okay.

Motor's quiet. Lift/lower speed is fine.
Memory functionality is straightforward – think setting station memories on old car FM stereos.
I recommend zip-tying a power strip that has a long power cord to the outside of the axle track. Plug the desk motor power into that and also your monitor power. Now you only have to worry about 1 power cord when raising/lowering. Make sure your HDMI cords are long enough too.
The max height makes me think, "WHAT IS THIS, A TABLE FOR GIANTS??" -Derek Zoolander, probably.
I think that's it. I was just really impressed and glad to finally make the jump into sit/stand land. FWIW, I've got a triple 23" monitor setup and the monitors extend past the width of the desk, but not an issue for me.
https://www.amazon.com/gp/product/B08K2ZFMJ9/