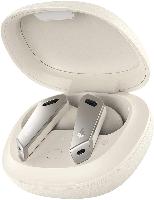 A highly-rated pair of true wireless earbuds with active noise cancellation for $50. (Select white color, $79.99 list price, click to redeem $30 coupon on product page)
https://smile.amazon.com/gp/product/B08CDHPFXQ/
A mini-review, if you're interested: I just received my pair today, and I'm really impressed. I agree with Scarbir's review (link above) that the ANC isn't too strong, but it's better than "passive noise reduction" advertised on other buds. I was mostly interested in comfort and call quality, and these are really excellent on both of those fronts. Good music quality, great battery life, useful app controls, and some mild ANC are nice bonuses for my use. The "ambient mode" works well (sort of opposite of ANC – it plays nearby sounds through the buds, when you need to be aware of your surroundings). I haven't tried "gaming mode". They were easy and stable to pair with both my Windows computer and Android phone (just not at the same time). I'm comparing these to Anker Life P2, Aukey T21, urlhasbeenblocked M9, and Xiaomi Mi 2 SE. The Xiaomi is the only one that's really close to the Edifier in terms of call quality, but that one doesn't do anything to block or cancel ambient noise.
Hope this helps!