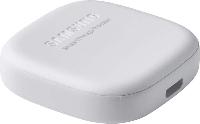 A4C50
https://a4c.com/products/samsung-…cker-white
Save 50% with coupon code A4C50
—————————————————————————————-
Use this Smartthings tracker/geofence to keep track of items or loved ones. Perfect for keeping track of young children and the elderly who may wander off. The fact that it has cellular capability* allows you to track family members who may have physical, mental, or developmental issues when it comes to seeking help if they become lost, is really important. We've had lost campers, hikers, wandering dementia patients, and even a young autistic boy in the news lately who could have been quickly found if they had one of these devices on their person. Also great if your vehicle, purse, or luggage is stolen!
*Cellular plan through Verizon (outlined below) is required for this device to operate.
Samsung SmartThings Tracker for Verizon LTE – New
Reg: $99.95
Coupon: -$49.98
Sale: $49.98
PRODUCT OVERVIEW
Secure yourself, a loved one or valuables with this smart, versatile Samsung SmartThings tracker. Its geo-fencing feature triggers smart home automations or alerts you when a pet or person who has it leaves or enters your designated zone. Double-press the button of this IP68-rated Samsung SmartThings tracker to notify authorized persons of your current location.
KEY FEATURES
4G Verizon LTE connectivity provides nationwide connectivity range.
Easy to complete setup via Bluetooth pairing with a smartphone.
IP68 water-resistance – Water-resistant based on IP68 rating, which tests submersion up to 5 feet for up to 30 minutes.
Download SmartThings app to find lost items – the app records current location of your item with attached tracker when you touch the location update button on the app. The app also automatically records the measured location for 7 days at regular intervals.
Geofencing creates an automatic alert zone when the tracker enters or leaves the tracker, and enables the automatically connected device to be turned on or off when the tracker enters or leaves.
PLAN INFORMATION
$20/year annual plan + $1/device/month

Plan includes 1GB data/year
E.G. 1 device = $20 annual + $1/month*12 = $32 ; 2 devices = $20 annual + $2/month*12 = $34