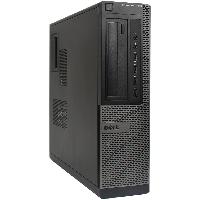 Intel Core i5-3470 processor
3.2GHz
8GB DDR3 SDRAM system memory (expandable to 16GB)
Gives you the power to handle most power-hungry applications and tons of multimedia work
1TB SATA hard drive
Store 666,000 photos, 285,000 songs or 526 hours of HD video and more
DVD drive
Watch movies and read CDs and DVDs in multiple formats
10/100/1000Base-T Ethernet
Connect to a broadband modem with wired Ethernet
Additional Features:
10 x USB 2.0 ports, 1 x VGA port, 1 x DisplayPort, 1 x Ethernet port, 1 x headphone jack
13.2 lbs; 12.3" x 3.7" x 11.4"
Software:
Genuine Microsoft Windows 10 Home 64-bit
Backup and Restore options built into Windows allow you to create safety copies of your most important personal files, so you're always prepared for the worst
Support and warranty:
1-year limited hardware warranty; 24/7 technical assistance available online or toll-free by phone
Restore discs are not included (unless specified by supplier). We recommend you use the installed software to create your own restore and backup DVD the first week you use the computer.
What's In The Box:
Power cord
New keyboard and optical mouse
Quick Start Guide
Microsoft Authorized Refurbisher: As a Microsoft Authorized Refurbisher, we must follow strict requirements established for the MAR program by Microsoft. These requirements are designed to ensure that you receive a high quality and professionally refurbished computer. Being part of the MAR program, also guarantees that you will receive a legal Certificate of Authenticity (C.O.A.) attached to the computer and a valid version of Microsoft Windows 10 operating system installed on every computer that is purchased through us.
https://www.walmart.com/ip/Dell-7…e/55099021
***Causes cancer in California***
Everyone else should be fine.