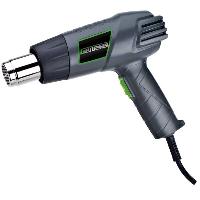 Genesis 12.5A Dual-Temp Heat Gun with 4 Nozzles
Discover the many uses of the Genesis 1500W Dual Temperature Heat Gun. It's a Versatile Tool for Stripping Paint and Varnish, Softening Caulking and Putty for Removal, Removing Adhesive Labels, Thawing Pipes, Gutters, Freezers, or Radiators, Loosening Rusted Nuts and Bolts, Speed-Drying Epoxy, Cement, or any Damp Surface. Reach for the Genesis Heat Gun to light your charcoal grill, warm RC engines to help with starting, and so much more..The heat gun has an integrated stand for safety and convenience. Simply stand the unit up on the back side with the exhaust end pointed upward to cool or as a heat gun stand while you heat shrink wire insulators. Make the Genesis Dual Temperature Heat Gun part of your tool set today and discover what Genesis Tools can do for you!
Includes: (1) 12.5 amp heat gun, (1) reflector nozzle, (2) deflector nozzles and (1) air-reduction nozzle
High temp setting 1000 degrees F; low temp setting 572 degrees F
Variable air volume: 17 or 10 CFM
Variable output: 1500 or 750 watts
2-year limited warranty
Includes 2 deflector nozzles, 1 reflector nozzle and 1 air reduction nozzle
Integrated Stand for convenience and safety. Simply stand the unit on the rear side with the exhaust end pointing up.
https://www.homedepot.com/p/Genes…/203656913
Reviews are very positive:
https://www.homedepot.com/p/Genes…nd-reviews