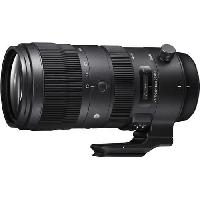 B&H – Sigma 70-200mm f/2.8 DG OS HSM Sports Lens for Nikon or Canon $1,099 with Free B+W 82mm UV.
Adorama just price matched on their web site and they include the Sigma USB Dock for free.
I missed the $999 deal back in May but this time it comes with the filter.
12:45pm update: I just ordered from Adorama because Capital One offer 10% statement credit (within 3 billing cycle) plus 4,396 Adorama Reward Points ($40 for future use).
https://www.bhphotovideo.com/c/pr…dg_is.html
Adorama.com
Thread/Discussion back in May.
Reviews:
digitalcameraworld
Sigma's new 70-200mm Sport is a top-performance lens with sumptuous build quality and a mighty range of up-market, customisable features. It's a little bigger and heavier than most competing lenses but handling is excellent nonetheless, and it's remarkably good value at the price.
Dustin Abbott on Youtube
slrlounge
Good amount of discussion on the type of photographers this lens is for.