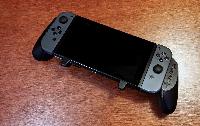 Just picked me up ZenGrip Pro Elite Bundle for $48.60 after shipping and tax. I had the ZenGrip Go Slim Bundle for the Switch Lite back when I was using that. Love their grips! Literally nothing compares to how comfortable they are. Their cases are great too since they fit to the Switch/grip perfectly.
MUST USE CODE "FU2020"
https://www.satisfye.com/
Cuz ya know, fark 2020.