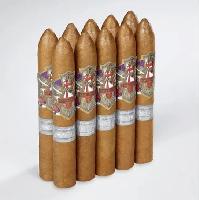 I ordered some cigars again and received new promos. I haven't tried any of them and don't know how good they are but they seem like a good deal.
Ave Maria Immaculata Belicoso (6.0"x54) (Mellow-Medium) – Pack of 10 for $39.99 – Promo Code CGPS272A
Direct link .
They also have:
Diesel Shorty (Gordo) (4.5"x60) (Full) – Pack of 15 for $49.99 – Promo Code CGPS272B
Direct link .
https://cigar.com/CGPS272A
I know this is the second deal I posted from cigar.com but I do not work for them or gain anything. I had a good experience ordering from them. Even when I order 1 cigar, they deliver properly.
Offer expires 3.31.2021. Limit one per customer.