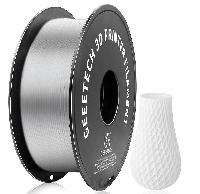 Geeetech PETG Filament 1.75mm, Upgrade Stronger Toughness Printing Consumables, Diameter Tolerance +/- 0.03 mm, 1 KG (2.2 LBS) Spool Fit Most FDM 3D Printer
price $15.98-$17.58 with coupon code: 20GETHPETG
PETG filament offers stiff, durable strength (like ABS) and ease of use (like PLA)—no heating bed needed, equipped with good gloss, corrosion resistance.
PETG 1.75mm 3D printer filament are produced with more precise specification and have a tolerance of only +/- 0.03 mm. Compatible with MOST FDM 3D printers.
Vacuum sealed with desiccant to maintain low level of moisture content. And please keep it dry and dust-free after after opening the sealed package to prevent it becomes brittle or jams the nozzle.
Designed and Manufactured to guarantee a smooth and stable printing experience. Recommended extrusion/nozzle temperature 220-240°C (428°F -464°F),base plate temperature 80-90°C (176-194?) . Works perfectly with all common 1.75mm FDM 3D printers.