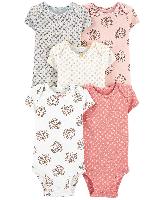 Macy's.com has 5-Pack Carter's Baby Cotton Bodysuits (various styles) for $9.80. You can save 25% by texting MAGIC to 62297 for unique code = $7.35. Before purchase, to earn 6% in Slickdeals Cashback follow the instructions below. Shipping is free on $25+, or choose free store pickup where available.
Example Deals (prices after text code):
For Slickdeals Cashback, On PC or Laptop Only:
If you don't already have it, Install the Slickdeals Extension () Note: if you already have the extension but have not enrolled in SD Rewards, click through the link to complete enrollment.
Sign-in or Create a Slickdeals account after installation. You need to have an account so we know where to send you rewards points.
IMPORTANT: To receive the Cashback Offer, disable adblockers and other cashback and coupon shopping extension. If you don't disable them, you may not get credit for this offer from Slickdeals. You can find your extensions under "Manage Extension" in your browser.
Next go to the store using the links above and you should see a prompt stating the % of cashback, if not open the extension and click "Activate Cashback"
Proceed to checkout
Track your purchase here:
Notes: Purchases can take up to 2 weeks to show up. We're working on speeding up this process as we continue to test out this Beta Program.
About this deal:
5-Pack Carters Baby Cotton Bodysuits (various styles) typically go to frontpage at $8.40. for $8.40 which received +97 thumbs. After slickdeals Cashback, and text coupon the final price for this deals is $6.91