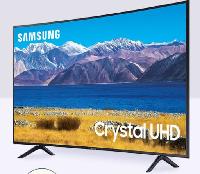 Amazon Treasure Truck has SAMSUNG 55" Curved UHD TU-8300 Series – 4K HDR Smart TV (UN55TU8300FXZA, 2020 Model) for 25% off @ $449. Lowest price tracked by the three camels on Amazon to date. Also included the regular Amazon link that includes more details on the TV that has 4.5 stars with ~2k reviews.
Note: The offer is at least available for the N. Virginia – DC – Baltimore location, which anyone can select after navigating to the deal page. Also, offer is through the virtual Amazon Treasure Truck, so has a limited time that it is available.
Treasure Truck Deal Link: https://www.amazon.com/treasuretruck
Regular Amazon Link NOT THE DEAL LINK (for more information and reviews, etc): https://www.amazon.com/SAMSUNG-55-inch-Curved-TU-8300-Built/dp/B08BTZLBVT/ref=sr_1_2?dchild=1&keywords=samsung+UN55TU8300FXZA&qid=1617811596&sr=8-2?
120 hertz motion ration (60 hertz native refresh)
This TV has 3 HDMI ports
Dimensions without the stand are 48.7 x 28.1 x 4.1 inches. With the stand, it measures 48.7 x 31.1 x 10.4.