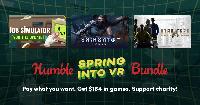 Humble Bundle is offering Humble Spring Into VR Bundle, which includes 8 VR games. All these will be given as steam keys
Pay $1 to Unlock
Pay above average to Unlock + Everything Above
Pay $15 to Unlock + Everything Above
Normally, the total cost for the games in this bundle is as much as $164. However, if you partake in this deal you can choose to pay as little as $1, if not up to $15 for the entire package
All digital games will require a Steam account to play/activate
Your purchase helps support one of the charities you choose, such as
American Red Cross.
Offer last for 14 days.