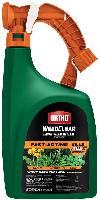 Amazon.com has Ortho WeedClearLawn Weed Killer Ready to Spray (32 Oz.) for just $7.00. Shipping is free with Prime or on orders $25+
Kill weeds in your lawn, including dandelion, chickweed, clover, crabgrass, and foxtail with the Ortho WeedClear Lawn Weed Killer
Fast-acting, with results in one application
Kills weeds to the roots but won't harm the lawn (when used as directed)
For use on grasses, including Bermudagrass, Buffalograss, Fescues, Kentucky Bluegrass, Ryegrass, and Zoysiagrass
Apply easily by connecting a garden hose to the attached sprayer–treats up to 5,000 sq. ft.