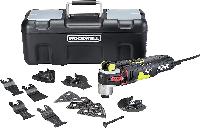 https://www.amazon.com/gp/product/B01HD4EQTG
I've been waiting forever for this to drop in price since COVID-inflated prices, so I finally got one. Amazon claims the normal price is $159.99 but we know how they do things these days.
Rockwell RK5151K 4.2 Amp Sonicrafter F80 Oscillating Multi-Tool with Duotech Oscillation Angle Technology. 12 Piece Kit includes 10 Accessories, Carrying Bag, and Oscillating Tool
4.2 Amp
Duotech oscillation technology lets you select the optimum oscillation angle for power and precision
Variable speed dial for precision control – from 10,000 to 19,000 oscillations per minute
Powerful 4.2 Amp motor delivers constant speed and won't stall under heavy loads
Hyperlock tool-free blade change system provides 1 ton of clamping force – prevents slipping during use, no matter the blade angle
Universal Fit System accepts all major brands of blades, sanders, and other accessories
I had one of the early model Dremel Multimax oscillating mult-tools when they came out and I loved it. I didn't think I would ever use it much, but once I did, it seems like I found weird situations come all the time that it came in handy. Perfect for small cuts in trim, molding, pipe, etc. But then the stupid thing broke (due to an infamously bad design with the switch) and despite several attempts to fix it, it kept breaking.
When I went to buy a new multi-tool I was surprised to see everyone had gotten into the market and now the prices were really high. I was holding out for a Makita cordless multi-tool, but they have still remained expensive and everyone complains about the weight. This Rockwell has gotten good reviews and it's compatible with all my existing Multimax blades and grinders, so it was a no-brainer for me at $99. 3C shows the price has been less than this but not for a year.
Note: The Amazon description says a bag is included, but the picture is obviously of a hard case. When I read the reviews and Q&A, the older ones state they got a hard case but the recent ones say it's a bag. Apparently the lower amp models always get the soft case. I will follow up when I get this, but the delivery date is a couple weeks out, for some reason.