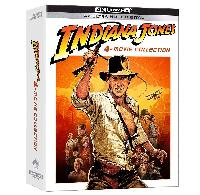 For those interested, on this collection, Deepdiscount has the pre-order on sale for $65.03. Use promo code below for additional savings.
Link
Use code: REDCARPET
This title will be released on June 8, 2021.
Includes:
Indiana Jones and the Raiders of the Lost Ark (4K UHD + Digital)
Indiana Jones and the Temple of Doom (4K UHD + Digital)
Indiana Jones and the Last Crusade (4K UHD + Digital)
Indiana Jones and the Kingdom of the Crystal Skull (4K UHD + Digital)
Price Search:
"Now, for the first time ever, all four films are available together on 4K Blu-ray with Dolby Vision and HDR10 for ultra-vivid picture quality and state-of-the-art Dolby Atmos Audio. Each film has been meticulously remastered from 4K scans of the original negatives with extensive visual effects work done to ensure the most pristine and highest quality image. All picture work was approved by director Steven Spielberg."
"In addition, all four films were remixed at Skywalker Sound under the supervision of legendary sound designer Ben Burtt to create the Dolby Atmos soundtracks. All original sound elements were used to achieve the fully immersive Dolby Atmos mixes while staying true to each film's original creative intent."