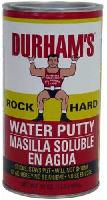 Features:
Fill cracks, gaps, holes and voids in all surface types
Can be sanded, drilled, sawed and painted when dry
Adheres in oil-free material such as wood, cement, plaster, stone, and composition when completely dry. Embed pebbles, shells, glass, tiles, and other materials in the putty when making mosaics. Add objects to sand sculptures without the worry of having them fall out.
Next best price looks to be $2.10 at Home Depot though only available for pickup.