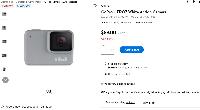 https://www.walmart.com/ip/GoPro-…yQmEf5K2bA
This deal is $30.00 cheaper than the last deal that was posted at the Slickdeal with the price of $119.00.
Go Pro is offered with pick-up only at numerous different Walmarts at least in the Central IL area.
Important specs -
- 1920×1080 or 1920×1440 at 60 or 30 frames
- INTERNAL BATTERY, NON-REMOVABLE
- Decent electronic image stabilization
- Same form factor as other Gopro 7s but the lens cover is NOT replaceable.
My take – Great cheap 1080p action camera. Yes, it's not 4k so video/picture quality might be not as good as the 4k ones, but you get Gopro build quality with knock-off brand price.
I don't think for $90 you can get a similar quality camera even when you look at knock-off brand ones (even for image quality).