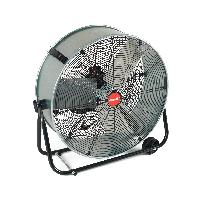 Seems like a good deal, but I dont have a store near me to pick one up. Maybe this will help someone else who's in the market for one.
Description
Floor fan with a galvanized steel body features noncorroding fan blades
Large rear wheels and transport handles allow easy mobility as needed.
Nonskid front feet prevent sliding to ensure it stays securely positioned.
This drum fan also offers 1/5 HP, low CFM of 3,800 and a high CFM of 4,300.
10′ cord allows easy placement in convenient location.
Zip Code showing in-stock at time of posting: 75093 (Plano, TX)
Brickseek Link
Walmart Link (For reference only)
Barcode link (for in-store scanning)
Good luck!