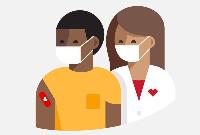 All U.S. adults are now eligible to get their COVID-19 vaccine — and now it's even easier for you to get yours. We're offering vaccine appointments at nearly all CVS at Target locations. And bonus: we're offering guests and team members a $5 Target coupon when they receive a CVS at Target-administered COVID-19 vaccination.
Schedule your COVID-19 vaccine appointment here .
Note: You'll get your $5 coupon to spend in-store after you get your vaccination.
https://corporate.target.com/arti…ne-coupon?