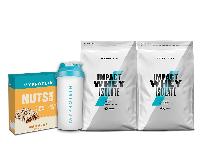 Myprotein is offering an IWI + Nuts Bar + Shaker bundle for $62 with Free Shipping with code BUNDLE62:
2 x 5.5 Lbs Impact Whey Isolate all flavors: Packed with 22g of protein per serving, this superior-quality blend delivers the protein you need. Sourced from the same cows that produce your milk and cheese, it's simply filtered and spray-dried to produce all-natural nutritionals
1 Box Vanilla Almond Nuts Bar (box of 12 bars): Crafted with a blend of delicious roasted almonds, our NUTS Bars are super-tasty and nutritious. This nut-packed bar is bursting with a sweet vanilla and crunchy nutty flavor, that's perfect when cravings call.
1 Myprotein Plastic Shaker: Your essential shaker for mixing supplements throughout the day — from protein blends to BCAAs — fuel-up, wherever you are. Each shaker comes with a secure, screw-top lid and mesh grill — together protecting against leaks when shaking and ensuring your drinks are always lump-free! The lid also contains a specially engineered drink funnel for easy drinking. These shakers are a MUST for anyone who uses powdered supplements! 100% dishwasher safe.
Deal directions:
Click here to select two 5.5Lbs packages from a variety of flavors:

Chocolate Smooth
Chocolate Mint
Chocolate Brownie
Cookies & Cream
Mocha
Salted Caramel
Strawberry Cream
Unflavored
Vanilla

Click here to add a box of Nuts Bars to your cart
Click here to add a Myprotein shaker to your cart
In cart, apply coupon code BUNDLE62