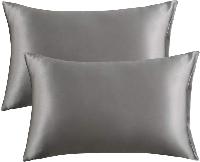 Bedsure via Amazon has Satin Pillowcase for Hair and Skin 2 Pack From $4.94~$8.24 + Free Shipping with prime
30off code + extra 15% Coupon
with code: VAT9GA3O
code can be used for all listing under store name Bedsure
The Satin Pillowcase is Amazon Best Seller, has 184,430 ratings.
100% Polyester Satin: Satin pillow cover utilizes 100% polyester satin to provide resilient feel with a distinctive and lustrous appearance – High quality satin is more sturdy and durable than silk pillowcases, which need professional cares – Luxury satin pillowcase provides smooth and soft feeling to ensure your tight sleep with stain resistant.
Beautiful Hair Tricks: Bedsure satin pillowcase creates less friction of your beautiful curly hairstyle and reduces hair breakage than sleeping on cotton pillowcases – Will not absorb moisture to help retain your shiny hair, perfect for curly hair – Silky and smooth satin pillowcases protect your hair to keep tangle and frizz free.